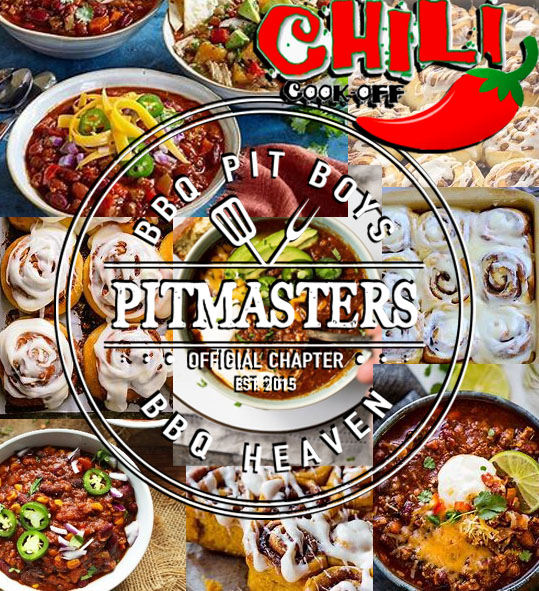 Get ready because BBQ Heaven is getting ready to take away the winter blues!
We are having a Chili & Cinnamon Roll Cookoff!
Please purchase either an attendee ticket or a contestant ticket:
1) Attendee Ticket: CLASS COST FOR ATTENDEES IS $25.00 AND INCLUDES BEVERAGES AND FIXIN'S
2) Contestant Ticket: CONTESTANT COST WILL BE $10 AND YOU WILL BE ENTERED INTO THE CHILI COOKOFF

Contest Rules (subject to change)
EACH CONTESTANT IS TO MAKE CHILI (ONE CROCKPOT) & CINNAMON ROLLS (ONE PAN)
(CONTESTANTS ARE LIMITED TO THE FIRST 10 ENTRIES)

ALL CONTESTANTS MUST COMPETE IN BOTH CINNAMON ROLLS AND CHILI CATEGORIES & YOU MUST BRING PRINTED RECIPE!
THERE WILL BE AWARDS FOR PEOPLE'S CHOICE FOR BOTH CHILI AND CINNAMON ROLLS
EVERY ATTENDEE AND CONTESTANT GETS 2 TOKENS
1 FOR CHILI
&
1 FOR CINNAMON ROLLS
********************************************************
Prizes (subject to change)
TWO GIFT CERTIFICATES FOR WINNERS IN BOTH CATEGORIES!
CHILI 1ST PLACE $50
CHILI 2ND PLACE $25
CINNAMON ROLLS 1ST PLACE $50
CINNAMON ROLLS 2ND PLACE $25